YouTube videos are a great resource for companies and individuals alike. Social media and online videos can take many forms: tutorials, advertisements, vlogs, video diaries or even animations. Using YouTube to publish your videos can allow you to to share information, engage with your audience on a personal level and educate viewers around key areas of your business. Unfortunately, however, it can be easy to forget that as engaging, informative and entertaining as your YouTube videos may be, without accompanying text and keywords, your target audience may never find them. That's where Capital Captions can help, with our YouTube Video Translation and Transcription Services.
YouTube Video Transcription Services
Our professional transcriptionists can type up your YouTube videos into easy-read-transcripts. Our YouTube video transcription services cover a range of writing styles including verbatim, intelligent verbatim, discourse analysis and edited transcription. Some benefits of YouTube video transcription services are:
YouTube transcripts include keywords and key terms that help viewers to find your videos.

YouTube videos should be reasonably short. Transcription services can improve focus on key points and messages.

Video transcription services can be used to create reference material for viewers.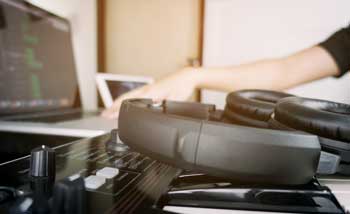 YouTube Time-Coded Transcription Services
Capital Captions' time coded video transcription services can be great for video makers who are looking to reference or edit their videos. Including a time stamp every 30 seconds or more can be useful if you are looking for particular shots or clips from your videos. Using the 'find' function on a transcript to locate a certain part of your video can effectively save you hours of time watching footage. Time code transcription can be used alongside translation, prior to video editing and subtitling. The main benefits of time-coded transcription services are:
Time coded transcripts contain reference points for quickly locating information.

Professionals use time coded transcription (logging rushes) to edit videos. It's also brilliant if you're looking to amalgamate or re-edit YouTube video content.

Time coded YouTube transcripts encourage viewers to switch between your video (YouTube) and written (website) content, increasing your exposure.
YouTube Closed Captioning Services
Ensure your videos are accessible and easy to find by using our YouTube closed captioning services. Closed captions can massively contribute to expanding your target audience. Our professional subtitlers can work to ensure your YouTube videos are accessible to deaf and hearing impaired audiences, whilst also improving your SEO. In addition, some major benefits of YouTube closed captioning services are:
Closed captioning on YouTube improves SEO by making your video keywords searchable.

YouTube closed captions enhance the viewing experience for deaf and hard of hearing audiences.

Closed captioning includes sound effects, speaker identification and forced subtitles, which potentially means even more keywords!
YouTube Subtitling and Translation Services
Following on from YouTube video translation and transcription services, Capital Captions can work to translate subtitles for your YouTube videos, opening up your content to global audiences. Our professional linguists and foreign subtitlers can translate your YouTube videos, including your focus keywords. Using online text means audiences in the US, UK and internationally can find and engage with your videos. Some top benefits of YouTube translation services include:
YouTube foreign subtitling and translation services expand your audience to global markets.

Foreign subtitles improve SEO in multiple countries.

Translating your YouTube subtitles can improve your reputation and exposure online. 
If you're interested in using our YouTube video translation and transcription services, contact us today for a quote, or browse our site for more information on other translation and transcription services.