Capital Captions subtitlers work hard to caption online courses, corporate training programmes, tutorials and e-learning videos for international clients. There are a huge number of benefits to adding e-learning subtitles to your videos. Capital Captions online subtitling services are accurate, affordable and reliable with some of the fastest turnaround times in the industry. If you are an e-learning course provider, website owner or video producer working with content that requires captioning or subtitling for e-learning purposes, read on to find out more!
The below info graphic highlights some of the key benefits of adding subtitles to your E-learning, corporate training or educational videos.
Online closed captions for accessibility

Foreign subtitles for international audiences

Professional subtitles to improve understanding and concentration levels

Video to text video transcription for SEO purposes

Downloadable subtitles and transcripts for reference and revision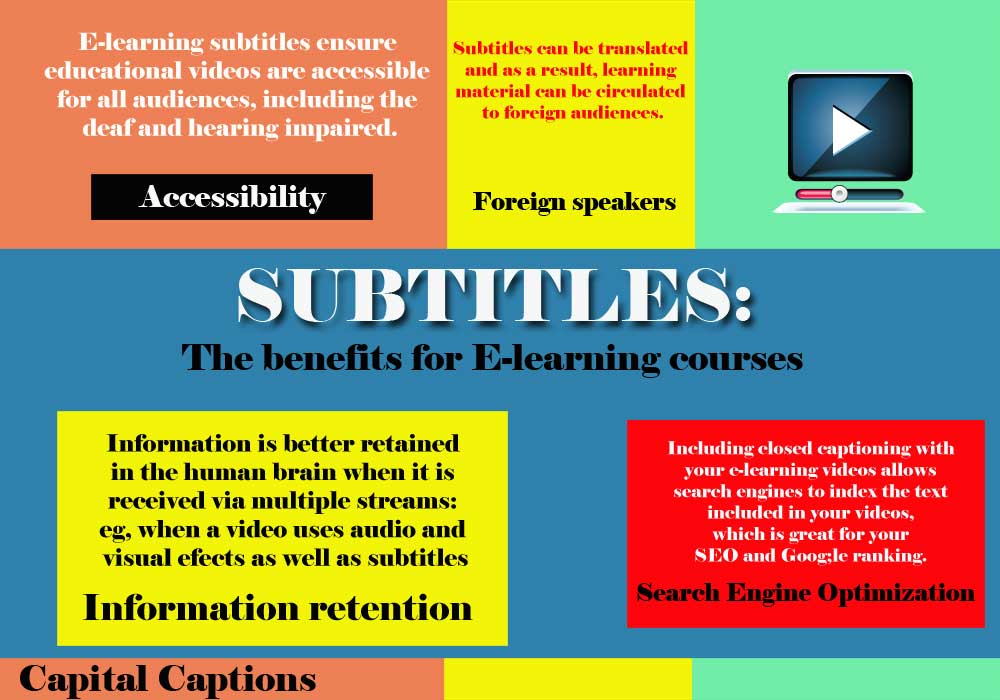 Benefits of Subtitling for E-Learning Courses
Subtitle Users and SEO
When it comes to subtitling, there are two common perceptions, both of which unfortunately lead to the massive under-utilisation of subtitling, closed captioning and transcription services in general.
The first misconception relates to necessity. Many see online video subtitles as not a necessity, but rather an optional add-on service. This is largely due to the reputation of subtitles as being primarily for foreign speakers and/or deaf viewers. However, the massive boom of online business marketing and the dominance of Google and other search engine rankings has given subtitling services a whole new lease of life.
Transcribing video to indexable text makes subtitling for E-learning courses an enormous marketing tool for many businesses. Video content is considered of very high value in terms of SEO, but without the accompanying text descriptions and/or subtitles, search engines can overlook even the most engaging videos.
Similarly, in the education sector, subtitling for E-learning courses has huge benefits for both hearing and native speaking students. Viewers using captions receive information through more channels (by watching, listening and reading). This is known to greatly increase the retention and absorption of information.
E-Learning Online Subtitle Prices
The second misconception around online subtitling centres around price. Standard practice is to charge for subtitling and transcription services on a per audio/video minute basis.
On the contrary, whilst captioning services can appear to be expensive, they can actually be extremely cost effective. (This is particularly true when using captions to enhance SEO).  The per audio minute pricing structure means clients can agree to a final price before commencing work. Additionally, avoiding paying for services per working hour ensures you only pay for transcription work done, regardless of typing speeds and productivity levels.
E-Learning Captions Quality Assurance
For expansive E-learning or training courses, it can be tempting to choose the least expensive subtitling service to save money. However, when it comes to cheap subtitling, some deals are just too good to be true. Low budget subtitles are often created using voice recognition software and automatic captioning (much like those used for YouTube videos). Automation can mean adding captions cheaply and quickly, but it's a definite false economy.
Errors in subtitle timings, spelling mistakes and general mishears can have a huge impact on viewers' understanding of video content. When it comes to education, adding poorly written, incoherent subtitles to learning material can potentially have an enormous impact on academy and business reputations and therefore, student intakes.
In addition, the potentially enormous mistakes that frequently occur in automated subtitles can be time consuming and expensive to fix. Just consider the number of mistakes made due to speaker accents, background noise or over-speaking. Unfortunately, creating subtitles using voice recognition software can result in quality that is so poor that captions need to be entirely rewritten!
In conclusion, whilst it's definitely worthwhile shopping around for the best value closed captioning or subtitling for E-learning courses, it's important to research company captioning procedures and quality assurance processes. If in doubt, it may be best to avoid any prices that appear way too good to be true.
If you would like more information on our typing services, feel free to drop us an email at info@capitalcaptions.com.