There are two key reasons that most clients choose to work with an online typing services company for recorded interviews: potential cost savings and a lack of internal capacity. In this blog, we're looking at the second reason and exploring some top money saving tips for interview transcription.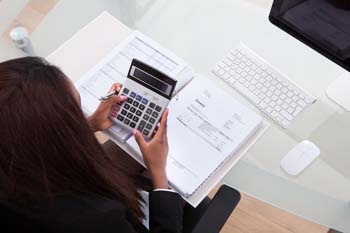 For research, journalism, media or legal companies, the decision to work with an online transcription company is likely to be very much related to cost. Recorded interviews and meetings are commonplace in these sectors, with enormous amounts of audio and video material to be transcribed.
Permanent staff are expensive, and productivity can be an issue. With online transcription services, rates are highly competitive and clients only pay for work on a per audio minute basis, in contrast to paying per hour of work which makes online typing services both more cost effective and productive.
But is working with an online transcription company really cheaper than hiring full time staff to take on the same work, plus extra? That's a big question which we'll look into whilst also looking at how to save yourself money when outsourcing interview transcription work.
Top 5 Ways to Save Money for your Interview Transcription
Plan Ahead for your Recorded Interviews
Tight deadlines and urgent transcription work can considerably boost the price per minute of audio and video transcription. If you have interviews booked in that you need to have transcribed by one month's time, book the transcription services in advance, allowing plenty of time for a long turnaround.
Know your Transcription Templates
This is a big one. There are a lot of different styles and templates in terms of interview transcription, all with varying price ranges. Starting with the standard option of intelligent verbatim, and moving towards the more expensive verbatim, discourse analysis, time coded, edited and Jefferson Notation.
Research which template best fits you. If you just need a few quotes for your article, you don't need to pay for time codes to be inserted into your transcript along with every 'erm, ah, and ooh'. Know what you need and stick to it in order to keep down your costs.
Consider Interview Audio Quality
Many transcription companies work with audio and video software that allows the cleaning up of sound. This means we can cut out some background noise and boost volumes on audio files: it doesn't make us magicians.
Audio typing is time consuming and transcriptionists are paid per audio minute, rather than time they spend typing up interviews. If an audio file is poor quality, a transcriptionist will spend extra time re-listening, proofreading mishears and tweaking audio.
For this reason, the cost of the transcription service will inevitably be higher. You can avoid these extra costs by carrying out your interviews in a quiet room (not a busy cafe) and where possible, using microphones or at least placing your recording device as near as possible to your speakers.
Keep Number of Speakers Down
Transcription service costs are increased as extra speakers are added. More speakers means over speaking, time spent on identification of individual speakers and extra formatting of your transcript.
In most cases, the most important person in your interview is the respondent or respondents, so it's often not feasible to reduce the number of speakers here but if you have three interviewers where you could easily have had just one, consider paring down your numbers and saving a few bucks.
Buy Transcription in Bulk
For many clients, fast turnarounds and the cheapest service may be the first consideration when finding a transcription company to work with but it's important to also look ahead to the future.
Oftentimes, clients who have outsourced interview transcription work with a company will inevitably return with more. Much like the retail industry, budget transcription services can really come into their own when projects are delivered in bulk. 
Saving money through bulk projects can mean two things:
Considering working with an all-in-one audio and typing services package.
You may have a project where your video needs to be converted to a usable format; your interview needs to be transcribed, time codes need to be added and eventually subtitle file made from the edit.
By ordering each of these services one by one, you may incur a full charge for each, but by ordering services as a package, you can save yourself a lot of money, time and stress.
Considering stockpiling your transcriptions
This one is a no-brainer. Much like any business, the more you buy, the better the rates you get. Also oftentimes, transcription companies will charge a minimum fee for small typing jobs.
If you are sending over three minutes of audio at a time over the space of a month, you will likely wind up spending a lot more than if you can arrange to stock pile those interviews and send them all in a cost saving batch of 75 minutes.
So that's it, Capital Captions' Top 5 Tips on Cost Savings for Interview Transcription. If you require interview transcription services, you can get a quote or if you would like any more information, email us at info@capitalcaptions.com