High Quality Video Transcription
So you require video transcription services to record information from your videos or create subtitles or closed captions. Here are some steps you can take to ensure you receive the highest quality transcripts back from your chosen UK typing service company.
Audio Transcription – Good Quality Audio
The most important step towards a high quality video transcription is high quality audio. If you can't understand or hear what a speaker is saying in your video (when you have background information and know what to expect), it's unlikely a transcriptionist will be able to decipher speech any more easily.
Audio can be cleaned through high pass filters, background noise reduction and volume boost processes, but there is a limit to how much poor quality audio can be improved.
Compress Your Files Before you Transcribe Video
Especially if you require urgent video transcription, you should look to compress files before transferring online to your chosen UK transcription company.
Uploading and downloading files takes time. Transcription companies work on the basis of having files uploaded to their servers (often through an FTP), then transferring and allocating those files to suitably qualified and experienced typists. This means that the video transcription process effectively requires time to upload once and download twice. If your video file takes an hour to download, that's precious time wasted, so to speed things up, pare things down!
Consult with your Video Transcription Company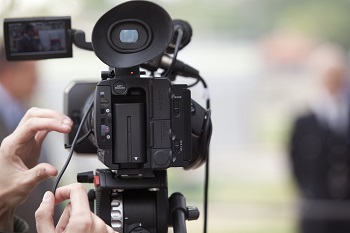 If you have a long history of working with video and audio typing services, you may know exactly what templates and styles to use for your video transcripts. However, for new clients working with video or audio to text services, it can be hard to know what your options are.
Rather than just going for the standard most commonly requested service, speak to your UK transcription company to find out what styles, templates and turnarounds are best. Ordering a verbatim video transcription might be a good idea if you work in the legal sector, but for a video production company needing rushes, time coded intelligent verbatim would be a much better option.
Similarly, for some videos that contain a lot of sections with silence, complex shots and angles or musical sequences, it can be worthwhile ordering your video typing service to come with video audio visual description.
Video Transcription, Subtitle and Closed Caption Writing – Know the Difference
You may want to edit or cut your videos after having them transcribed. This is fine and in fact, production companies will often order time coded transcription of rushes as a reference aid to editing and post production. However, if you are adding subtitles or closed captions to your videos, (.srt, .xml, .ttml, .stl or any other format), you will need to make sure your subtitles are made using your final cut. Any additions or changes to your video subsequent to creating subtitles will cause your on-screen text to be incorrectly timed or entirely invalid.
Video Transcription:
Transcribe audible speech in a video (often with time codes).
Video Subtitles:
Transcribe and time on-screen text to accompany video (including all audible speech).
Video Closed Captions:
Audio type and time on-screen text to accompany video (including all speech, sound effects and contextual information to aid viewers who are deaf or hard of hearing).
For more information on our video transcription services or subtitles, Visit our services page here…