This week we want to introduce you to some insights into the world of UK transcription services and give you a little bit of background knowledge into the processes involved in online UK transcription services. 
UK Transcription – Industry Basics
The Oxford Dictionary definition of transcription is 'a written or printed version of something; a transcript.' In terms of the transcription industry, typing company work can be more broad than this definition. UK transcription services cover not only audio typing or video transcription services, but also work which involves subtitling or closed captions, effectively creating a written version of a video which displays simultaneously to a viewer.
In recent years, due to the competitive nature of the UK transcription industry and the introduction of new technologies such as YouTube, vimeo and vine video services, more transcriptionists are adapting their skill sets to cover not only video and audio transcription but also subtitling, closed captions, copy typing and formatting services. Also, in an increasingly global marketplace, translation and transcription are often working alongside each other, with many transcriptionists also offering foreign subtitle services and document translation. 
UK Transcription Services – Sectors 
Online transcription companies often receive work of varying degrees of complexity, length and urgency. At Capital Captions our transcriptionists are qualified and experienced in working with documents ranging from urgent medical transcriptions to budget research focus group transcriptions. 
Professional audio typing often includes a high element of research into terms, names and jargon. Industry knowledge can 'make' or 'break' a good transcript, and is absolutely crucial when dealing with technical audio or video transcriptions, such as: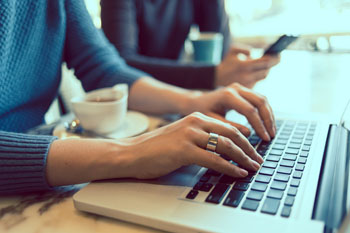 Conference Transcription

Medical Transcription

Legal Transcription

University Transcription

Conference Transcription

Research Transcription

Financial Transcription

and more…
UK Transcription Work – The Basics
First we'll start with the basics of freelance transcription work. Before you set out on the path to becoming a successful transcriptionist you are going to want to ask yourself a few very important questions.
Firstly, what is a typical or potential transcriptionist's earnings? Unfortunately there is no set answer to this question. As with so many other freelance professions out there, the more time and energy you are willing to put in, the more money you can make.
Above all else, self motivation is key to high earnings and success within online transcription services.
What are the benefits of a UK transcription services career? Rest assured, there are many benefits. Not only do you get to determine your own wage structure, (the more effort you put in, the higher salary you take out) but you also get to work at the times most suitable to you. This means no more restrictions on when you can do the shopping, take that vacation you've been promising yourself or even when you can have a catch up on some well earned sleep!
How do you achieve success? In order to succeed in this industry, transcriptionists must have excellent written and analytical skills. Here at Capital Captions we always check our transcriptionists to make sure they have the relevant qualifications before they join our team.
If you think you have what it takes to become a successful transcriptionist and want to work with us then why not get in touch with us at info@capitalcaptions.com. Following receipt of your CV, we will assess your skills and get you on the road to the dream position you always dreamt of.