'My name is James and I'm a freelance Transcriptionist and Video Subtitler. I'm 36 years old and have a linguistics degree from Westminster University along with 10 years experience of transcribing and video subtitling for various international companies.
I am a self-motivated individual who always strives to do well at everything in life. In going freelance, my main aim was to work from home with flexible hours, so I could enjoy spending more time with my family. 
In today's article I'll guide you through a typical day in my working life: the Life of a Freelance Transcriptionist and Video Subtitler. My career is going pretty well, so hopefully I can offer some handy tips to help it make it work for you like it has for me.
10:00PM (previous day)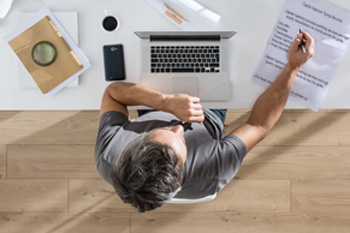 Just in case you were wondering, my day doesn't actually start the night before but I'm putting this in here because I always try to plan a day in advance which means checking if I have any urgent files coming in. That way, I know to have my PC ready in the morning with my transcription software loaded up and research tools ready. It's also important to plan a day ahead when working freelance to avoid each day becoming one giant lay-in (which sounds pretty tempting until all your Direct Debits bounce!)
7:30AM 
The day begins with a  quick check of my e-mails to check if there are any new or urgent files which have come in overnight. I'll check my DropBox for new video uploads for subtitling or translation. I'll load up my subtitle software, import the video and transcripts and make sure my transcription pedals are configured so I'm ready to roll.
10:00AM 
I specialize in subtitle and transcription services and spend the majority of my time on these, however I also have experience in technology and medical transcription. Most days I'll have interview transcriptions from regular clients which I have built up strong relationships with over the years. I tend to prioritize to keep my regular clients for a long time. Online subtitling and transcription work can be volatile and regular work can be hard to find.
12:00PM
Time for a well deserved lunch, I always try and keep my lunch hours consistent as this makes it easier to plan every day and schedule. Many of my regular subtitle clients prefer to know exactly what my availability is throughout the day as this gives them a better indication of when I will be around to take on new or urgent subtitle work.
2:00PM
Time for a hard afternoon shift. This is the time when many of my European clients expect documents and files back from the previous day, so I take time to proofread and finalize documents ready for sending back. This can be labor intensive and can take a large chunk of the afternoon to complete but I never slack off when it comes to checking through my work. Sloppy errors that could easily be corrected take little time to find and fix, but can ruin reputations and destroy client relationships if missed.
5:00PM
Around this time, I often have clients e-mailing me with new amendments to documents and add-on's which need to be completed before close of business so this is often the most stressful part of my day.
10:30PM
At this time of the evening I like to do a quick check on all my e-mails and correspondence from the day and line up any new work for the following day, this may range from interview transcriptions to transcribing a video on the economy. It's all in a day's work for a translator.
So there you have it, a day in the life of a Freelance Transcriptionist and Video Subtitler. The work can be varied: sometimes overwhelming, sometimes borderline non-existent. Without regular clients, you never really know what you will be doing from one day to the next: from transcribing interviews on the economy to producing video subtitles for a multinational company.
Some people say that this can be quite hazardous and you can never really plan your day-to-day task', but for me though it suits my lifestyle and compliments the way I work. It allows me the freedom and flexibility to take on work as and when I want to. It also means I can spend more quality time with my family as I am always around when needed.
This line of work may not be for everyone but it is definitely for me!'
If you have at least five year's experience as a transcriber or Video Subtitler and have the skill to provide accurate, timely and professional Transcription Services and Subtitle Services, we would love to hear from you, just send your CV to info@capitalcaptions.com today!