Since 1991 when the worldwide web became publicly available, the world of information has changed. Those who are old enough to have witnessed the birth of the internet know the changes in the way we now communicate, search out and absorb information are enormous. In an online world that was dominated by text and static images, video is now taking over as a more engaging, accessible way to discover new things. Now more than ever, companies need to convert audio visual data into something indexable; learning how best to use video transcription and subtitling services for SEO.
As popular as video services online are today, search engines have still not mastered the ability to convert audio and video content into fully indexed, searchable data. Consequently, that video that you spent weeks creating, isn't going to go 'viral' if nobody is able to find it! This is where you need to learn more about using transcription and subtitling services to maximise your video SEO. We're here and available to help you out with our top tips!
Subtitling Services
The number one way to get your video content into a text based, searchable format is by using subtitling services. Subtitles include all dialogue in a video – dialogue which can easily wind up falling into a dark internet abyss, if not transcribed into a searchable text format.
Simple SRT or WebVTT files can be uploaded onto most video sharing sites, including YouTube, Vimeo, Facebook and many more. Using plugins for your website can also allow you to add subtitling to your embedded videos, which really helps to get your keywords out there and boost your page rank.
Closed Captioning Services
If you want to take subtitles that one step further, you may consider adding closed captions. Closed captioning includes sound effects and forced narrative from your videos. They ensure that your videos are accessible to deaf and hard of hearing audiences (SDH), but there is another secret SEO benefit to adding closed captioning over subtitles.
Closed captioning includes onscreen text which often summarises the key facts, names, places or topics in a video. Video is by nature a visual medium. Consequently, sometimes producers and filmmakers will overly concentrate on getting their messages across visually, to the detriment of rich audio content. Just think, in that new drug infomercial, how many times was its name actually mentioned during the description of how effective it is?
Keyword captioning is key. Titles which summarise video content are incredibly important in getting your videos found, ranked and liked!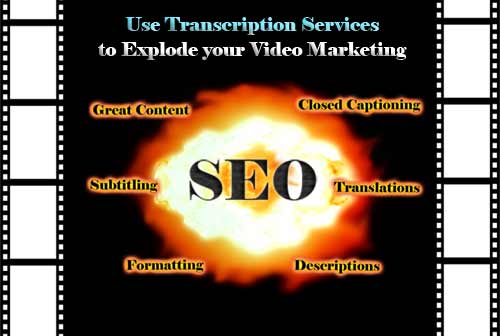 Video Transcription Services
For a slightly less expensive option, video transcription services may be another option.  Video transcription services are most effective for films that have a long duration and are rich in content. Using video transcription services to create long tail written content means effectively indexing your video information. In summary, a transcript is easier for customers, consumers, clients (and Google) to reference and search.
A video with a running time of two hours may have lot's of information you want to get out there. However, it's just going to be too much for a typical viewer to want to sit through. Information on the web should be easy to find and quick to digest. Using transcriptions of long videos can help viewers to engage more as they can quickly and easily search through and reference text as and when they need it.
For transcriptions for SEO purposes, we always recommend intelligent verbatim or time coded transcription.
Foreign Subtitling and Translations
If you are looking to expand your business or spread your information globally, then foreign subtitling or video translations are crucial for your SEO.
Many platforms and plugins exist online to translate website data into foreign languages. However, online subtitles cannot be translated automatically in this way. By translating your video subtitles for your website, YouTube or other video sharing platforms, you can be a step ahead of your competitors in reaching a global market.
A tempting alternative to foreign subtitling may be to simply use web automation software to translate transcripts of your videos. However, this is likely to be far less effective than using professional subtitle translation services. Whilst automatic translations are likely to include your key words, they are typically riddled with grammatical, syntactical and punctuation errors. Unfortunately, these can all be highly detrimental to your search engine optimisation. Remember, the higher quality your content, the higher your rank!
Summary Information and Video Descriptions
Video makers far too often overlook detailed video descriptions and summaries. Think of your video descriptions as advertisements which you should use to encourage viewers to play, watch and share your videos. It's also good practice to include a link to your website with your video description, to take optimisation that step further.
Format Conversions
Once you've used transcription and subtitling services to maximise your video SEO, it's worth considering also marketing through format conversions. This means taking the written information covered in your video and publishing it in other creative forms. Search engines value variety, and it's definitely worth taking time to further enhance your efforts. Some ideas include embedding  or circulating:
Word documents

PDFs

Brochures and leaflets

PowerPoint presentations

Standalone caption files
Having the greatest marketing strategy and the most engaging video in the world isn't enough without effective SEO. If viewers can't find your video content, they can't engage or share it. For this reason, using video transcription and subtitling services for SEO is absolutely crucial in getting your company's information out there. Capital Captions is a highly reputable UK subtitling company. Working with video transcription, closed captioning, translations and subtitling, we can provide an all encompassing post production video service. Contact us today for a quote and free five minute sample.