Every month, Capital Captions will be creating a 'meet the team' blog which will feature a member of our valuable team so that you can get to know a little about them and their background. Today we are featuring our subtitle specialist Alice Peters.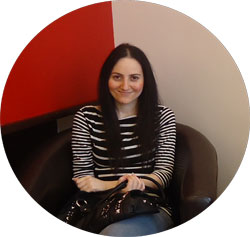 Name: Alice Peters
Job Title: Subtitler and Video Editor
Specialism: Social Media and YouTube Subtitling, E-Learning Subtitling, Broadcast Subtitling
Qualifications: 2:1 (Hons) Digital Media and Marketing
Experience: I currently have over 15 years experience as a subtitle and social media video editor
Interests/Hobbies: I have a keen interest in fitness and health. I enjoy keeping up with fashion trends, spending time shopping and watching movies with friends to wind down and relax.
Why did you decide to work for Capital Captions?
I took the decision to work for Capital Captions as they are a friendly and welcoming company that have a real interest in quality subtitles and real writers. They are engaging and relaxed to work with and have a professional outlook to their work.
In my chosen industry I have a lot of experience within video transcription services so I feel that the work they provide me with is suitable and very accommodating. Working with Capital Captions provides me with confidence to know that I am doing a good job. I am always given feedback, and always listened to.
What aspects of the job do you enjoy most and why?
I would say that I have always been interested in the media and digital video industry since the 90s. I studied Digital Media and Advertising at Bournemouth University. Also I enjoy video editing, burning subtitles onto video and working with placements, fonts, shadows and colours. 
I also enjoy producing the subtitles the most because it gives me pleasure when I think that these subtitles will help people get a better experience of the video or infomercial that I am working on. Capital Captions allow me to organize my workload so that I never have to feel pressured or overworked.
The fact that I work within my specialist field of subtitle production for social media videos is great. I am able to work on many different projects on a daily basis and work with different media. The areas include videos for YouTube, commercials that are aimed at Facebook and infomercials aimed at the B2B world. All this equates to having different and varied projects to work on which means I am never bored at work.
What are the main benefits for Capital Captions clients?
Capital Captions always offer fast turnaround times for their clients. They always go the extra mile to make sure the work is done right and in the correct time frame, after all, it is all about the clients and making sure they get a top class service and standard of work. Capital Captions take security very seriously and have secure client upload area and are registered with the Data Protection Act.
Subtitles are a very specialist and precise industry. Capital Captions can offer their clients the services of specialist subtitle producers who have experience of other elements of video production such as specifying bit rates and working with more technical aspects of video software.
Whilst this type of subtitling service is invaluable when it comes to SEO and the production of unique content, it also opens up great opportunities to cater to the needs of viewers who have hearing difficulties. Subtitles also allow visual descriptions which can be used for people with visual impairments.
If you would like further information about joining our team or any of our subtitle services we offer, contact us today for more information.